A Note from Fatty: You might remember that back in April, I announced that this year?s 100 Miles of Nowhere would, with the help of LIVESTRONG, help fund the creation of Camp Kesem Southern Utah.
Well, we raised $34,000 with our little 100-mile event, and that money helped not only get Camp Kessem in Southern Utah get on its feet, we helped it stay on its feet for next year, too. And we helped other Camp Kesems across the US send kids who have parents with (or who have had) cancer to a fun-filled, silly, happy week.
Two of the kids who went to Camp Kesem Southern Utah were my own twins, pictured here during ?Western Day? at Camp Kesem: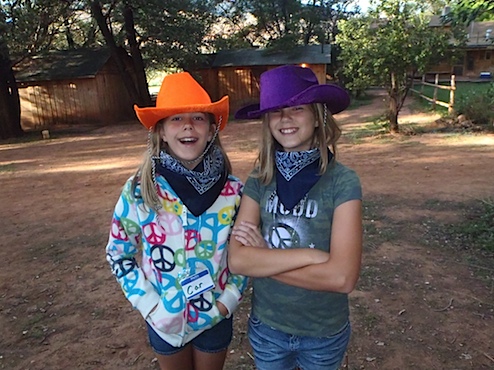 At Camp Kesem, everyone goes by a camp nickname. ?Car? is pictured here on the left, and ?Couch? is on the right. And no, I have no difficulty whatsoever telling them apart.
They had so much fun. One of the first things they said to me when they got back home was, ?Can we please go back next year??
And you know what? I think that can probably be arranged.
So, before I turn the blog over to the twins for their story of their week, I wanted to thank some folks.
First, A huge thanks to LiveStrong. They introduced me to Camp Kesem. They?re helping fund Camp Kesem. They continue ? long after cancer has stopped being an ugly, daily force in my life ? to help my family in practical, meaningful ways. Thanks Doug. Thanks Lance. Thanks everyone at the foundation.
Second, A huge thanks to Camp Kesem: Your idea is simple and beautiful: give a wonderful week to kids who have gotten a raw deal because their parents are fighting cancer. And do it at no cost to the kids. And your execution of that idea ? using energetic, friendly college kids to give those kids lots of attention ? is pure genius. You?ve got my support, permanently.
Third, A huge thanks to my readers: You have an astonishing ability to support me, my family, and each other. Thank you for pitching in, over and over, through the years. You have big, kind hearts, and I?m lucky so many of you have chosen to stop by here from time to time.
====================================================================
And with that, here?s ?Couch and Car?s Camp Kesem Story.?


The first day of Camp Kesem, the first thing we did was play games to get to know each other, then we played tag and talked. Then we went on a small hike. We saw: one rabbit, some lizards, and two snakes. We also made paper lanterns and put our flashlights under them so they would glow. At night, we had a party in our cabin and chatted.

On Western day, we did cowboy things like ?lasso the bull? and ?ride that pony.? Then we played capture the hat. Then, finally, we had a squirt gun shoot-off.

On Mexican day we had a paper airplane race and had taco soup and we also played capture the bandana.

Then it was island day. We ate Hawaian Haystacks and played water balloon volleyball and slip?n?slide baseball. Then everyone just sat on the ground and talked. Some friends and us sat with a leader and talked about what would win: a T-rex or 10 tanks.
And just when we decided we couldn?t decide what would win, and asked someone else, we heard, ?Like a banana!? and water balloons came raining down! And so it was a huge fight and it went on until the water balloons ran out.

Then on Chinese day we made chinese dragons, watched a slide show, ate some treated, and went to our Grandma?s home in the rain.